This church-wide art project is a fantastic way to connect your faith community! It takes very little planning and is high-impact for churches of any size.
Discover new talents of the people in your church.
See the deep faith of your members.
It's easy to plan and participate!
The Idea:
Create a cross. Design it. Build it. Form it. Use whatever art-form and materials that you would like.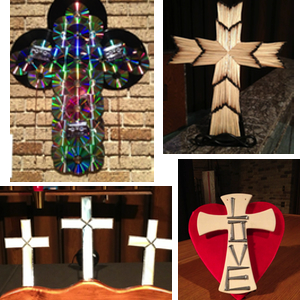 The Details:
Deliver your cross by noon on Good Friday so it can be displayed for worship that night. Crosses need to be able to fit through all the doors of the building and be displayed in a safe and secure way. Crosses may be picked up after worship on Easter.
The Story:
Tell your church about your cross…your inspiration, your art-form, your process, your reason that it's meaningful. Type/write it up and bring it with your cross to put on display along with it. Make sure to include your name along with the description.
Save time and download everything you need here:
The Cross Project Success Kit includes:

Suggestions for curating a successful community art installation
Logistical tips & tricks
Large & small LOGOS to brand the event
Prepared insert for your bulletin/worship publications (pdf)
Installation cross description template (doc/docx)
Powerpoint slides for project announcements (ppt/pptx)
Links to two YouTube videos that can be streamed for promotion*

* Videos are not for sale. For streaming from YouTube only.